Diamond Mesh Lath Hebei Spak Metal Product Sales Co., Ltd. > Products > Building > For Construction > Views
Diamond Mesh Lath
Diamond Mesh Lath
| | |
| --- | --- |
| | |
| | |
| Diamond Opening Mesh Lath for Stucco Base | |
Arch supplies diamond mesh lath processed from light type galvanized steel diamond hole expanded metal and expanded stainless steel. The metal lathing products are applied for both internal and external wall building applications. Our diamond mesh lathing products are SELF-FURRING LATHs, that is Dimples or embossed "V" groove holding the lath approximately 1/4 inch away from the wall allowing the plaster to fill the space between, insuring it is embedded.
Diamond Metal Lath Product Popular Specification:
CODE /Lath TYPE /SHEET SIZE (WXL)/ PCS PER BUNDLE /PCS PER PALLET
DML/ 1.75lbs/ 27"*96" /10 /250
DML/ 2.5lbs/ 27"*96" /10/ 250
DML /3.4lbs /27"*96" /10 /250
Major Uses: Diamond Mesh Expanded Metal Laths play an excellent role in finishing materials on internal or external plasterwork or rendering finishes. It is used in both commercial projects and home improvements
Detail uses as following:
Wall Plasters;
Renderings on masonry;
Ceilings;
Suspended ceilings treatment;
Timber framed buildings;
Flat Surface treatment;
Curved and domed wall steel structure surface.
Two important pGalvanized Steel Flat Diamond Mesh Lath for Plaster/Stucco Base:
A superior multi-purpose expanded steel base widely used for interior and exterior plaster
and stucco reinforcement. The flat surface is easily cut and formed for use with flat or
contoured surfaces. It is an excellent base for stone, spray on structural fireproofing,
ornamental work, and under ceramic tile. Expanded metal lath is formed from sheet steel
that has been slit and expanded to form thousands of plaster "keys" per square yard. It is
time- proven exceptional strength and flexibility makes it the preferred metal base
requested by quality oriented contractors and design professionals.
Product Data & Ordering Information of Flat Diamond Mesh Lath:
Material: G-60 Galvanized Steel,
Packaged: 50 bundles or 500 pieces per pallet
Finish /Wt. per Sq Yd./Sheet Size/Pcs./Bdl. Yds./Bdl. Yds./Pallet
Galv. 1.75 lbs. 27" x 96"10 20 1000
Galv. 2.5 lbs. 27"x 96"10 20 1000
Galv. 3.4 lbs. 27"x 96"10 20 1000
V-Groove Self Furring Lath, Galvanized Steel Expanded Mesh Plaster/Stucco Base
A self furring expanded V-grooved metal lath, ideal for interior and exterior use over sheathing,
masonry and other solid surfaces as required per ASTM C1063. The V-grooved self-furring
plaster base is manufactured with evenly spaced indentations, 6"apart which run the length of
the lath sheet holding the metal lath a consistent ¼" away from the surface to be plastered.
Self-furring metal lath is available with or without a Grade D asphalt paper-backing, breather
sheet.
Product Data & Ordering Information:
Material: G-60 Galvanized Steel
Packaged: 25 bundles or 250 pieces per pallet
Diamond Mesh Expanded Metal Lath Benefits:
•Flexible mesh structure. The mesh can be easily formed into curved surfaces.
•Light weight and beautiful. Metal lath improves the appearances of cracking plaster / render.
•Can be provided cut to shape and sizes.
•Can be used as a carrier for fire protection to structural steelwork.
•Wide range of options to suit your specific use.
•Strip mesh can be used along the lines of potential weakness.
•Diamond mesh is used for reinforcing corners formed by plaster / render.
•Diamond Corner mesh reduces cracking in plaster / render caused by shrinkage.
Technical Details of Expanded Diamond Mesh Sheet, Raw Material for Processing of Metal Lath:
Material: Pre-galvanized steel or stainless steel 304.
Introduction:
A major advantage of expanded metal mesh sheet is that the mesh is formed from a single piece of material so the process is not wasteful and therefore cost effective. The material is cut and stretched while still leaving it attached at the knuckle. This allows it to retain its shape when cut and cannot separate or fray. Often cutting to shape is the only fabrication needed. It has excellent corrosion resistance when suitably coated, and the uncut knuckles support weight and withstand stress better than jointed welds or woven materials.
Diamond Mesh Expanded can be supplied in a variety of finishes, thickness, raised or flattened. Flattened is smoother and does not indent soft materials if this is a consideration but is not as strong as the more robust raised mesh.
Technical terms:
SWD: 2.5mm-50mm (Short Way of the Diamond), the distance from the middle of the bond on one side to the middle of the bond on the opposite side.
LWD: 3mm-100mm(Long Way of the Diamond) is the distance across the largest dimension of the diamond measured halfway between the diamonds.
Width: 0.5m-2.7m, Length:1m-3.6m
Thickness(gauge): Up to 8mm, Original thickness of metal before expanding.
Strand Width: 0.3mm to 8mm, Amount of metal between diamonds to produce one strand.
SWD, LWD Direction: Parallel to Length or Parallel to Width
Shearing types:
Bond shearing, random shearing
EXPANDED RAISED MESH ( EXPANDED METAL SHEET )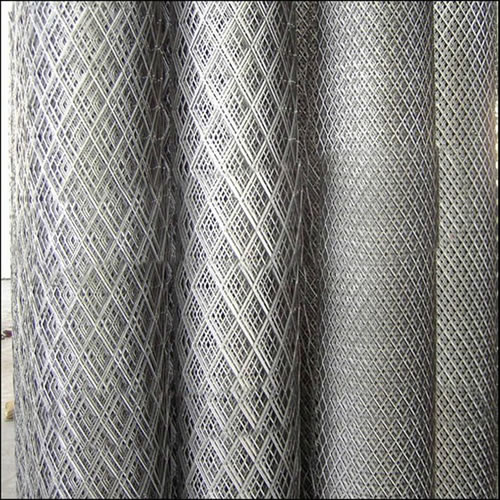 Diamond Mesh in Rolls, Material for Manufacturing Metal Lath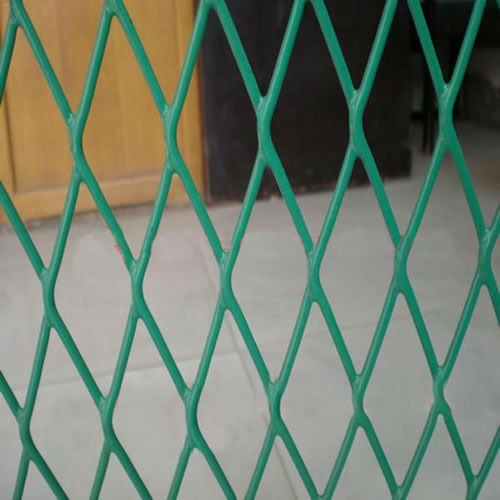 Diamond Opening Expanded Metal Mesh Sheet with Plastic Coating Surface