Nickel Wire Mesh Hebei Spak Metal Product Sales Co., Ltd. > Products > Filter > Common Woven Wire Mesh > Views
Nickel Wire Mesh
Nickel Mesh Materials:
Nickel woven wire mesh is a kind of filter screen mesh made with nickel wire materials N2, N4, N6, N8, etc. The most popular nickel wire mesh material is N4 and N6. The main nickel content of N6 is more than 99.5%. N2 has highest nickel content of more than 99.98%. N8 has the lowest nickel content of 99% min. Pure nickel wire mesh have superior corrosion resistance, acid resistance, mainly used in screening and media separation of gas and liquid under strong acid, alkali environmental conditions.
| | |
| --- | --- |
| | |
| | |
Weaving Types of Nickel Wire Mesh Screen and Their Main Specifications:
Nickel screen can be woven with three methods: plain weave, twill weave, Dutch-weave. The main specification for the plain woven nickel mesh is from 1 mesh to 200 mesh. Plain weave process is characterized by the same wire density per inch in the warp and weft direction. The main specification for the twill weave nickel wire mesh is from 1mesh to 220 mesh. The twill woven wire mesh has better tension than plain weave mesh. The main specification of Dutch weave nickel wire mesh is from 45 mesh to 800 mesh. Dutch woven wire mesh offers accurate filtering of minimum 20um, which cannot be achieved by the plain weave and twill weave mesh. Nickel mesh screen can be produced according to customers' needs and as well as custom wire diameter and mesh requirements. Pure Nickel Wire Mesh Filters are mainly used in petroleum, chemical, aerospace and other industries.
20 to 200 Mesh Woven Nickel Wire Mesh Ribbon / Strip
Material: Nickel wire.
Specifications: 20-200 mesh.
Wire Diameter Applied (mm): 20x20 mesh x 0.18mm, 40x40 mesh x0.15mm, 60x60 mesh x 0.12mm, 80x80 mesh x 0.10mm, 100x100 mesh x 0.08mm, 120x120 mesh x 0.07mm, 140x140 mesh x 0.07mm, 160x160 mesh x 0.055mm, 180x180 mesh x 0.05mm, 200x200 mesh x 0.05mm.
Weave Pattern: Plain weave, Twill weave,
Features: High temperature resistant (1000 degrees), acid and alkali resistant.
200 to 400 Mesh Nickel Wire Mesh
Condition: The mesh shall be in annealed condition.
Mesh Size: 200 to 400 (i.e. opening size of 0.04 mm to 0.08 mm)
Wire Diameter: 0.04 mm to 0.055 mm.
Nickel Wire Mesh Material Requirements
Chemical Impurities Specified Values Applied for Nickel Mesh Material
Serial No.
Element
/Impurity
Specified
Value
(wt % Max)
Serial No.
Element
/Impurity
Specified
Value
(wt%Max)
1
Co
0.21
9
Bi
0.002
2
Cu
0.1
10
As
0.002
3
Fe
0.1
11
Sb
0.002
4
Mg
0.1
12
Zn
0.007
5
Si
0.15
13
Sn
0.002
6
Mn
0.05
14
C
0.1
7
Cd
0.002
15
S
0.005
8
Pb
0.002
16
P
0.002
17
(Ni + Co) Content should not be less than 99.5 wt%.
Documents Required for Nickel Mesh Material:
Certificate of analysis (COA) of offered material. COA must include content of "Ni+Co".
Chemical test reports and report for wire diameter and mesh size from a laboratory accredited by National Accreditation Board for Testing and Calibration Laboratories (NABL) showing the results of testing & inspection performed on each lot of Nickel wire mesh. Test report must include Nickel content and all the elements/impurities indicated in specifications.
Packing
The nickel wire mesh will be rolled on suitable bobbin. Each roll will have approximately 5 square meter of nickel mesh. Individual rolls will be packed in sealed plastic bags, to ensure cleanliness and minimize moisture pick-up. Rolls will be packed inside wooden boxes with suitable packing to provide adequate protection against damage during handling and transportation. Each roll will be labeled indicating Lot number, Wire mesh size, quantity in square meters and will be accompanied with chemical analysis report.

Pure Nickel Woven Wire Ribbon, 0.1mm diameter, mesh hole size 1.5mm x 1.5mm, 1m x 2m
Nickel Screen / Sieves for Continuous Centrifugals and Batch Centrifugals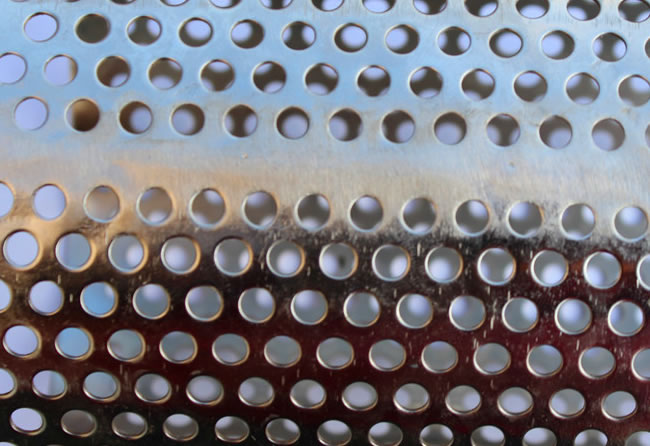 Nickel Screens for Continuous Centrifugal for FC1000/34°
Material: Nickel Perforated Sheet
Type 40/10
Perforation: 0.06 x 1.69 mm
Thickness: 0.29 mm
Open area %: 6, 4
Supply Form: Sieves
Nickel Screens for Continuous Centrifugals for FC1000/30°
Material: Nickel Perforated Sheet
Type 40/10
Perforation: 0.09 x 1.72 mm
Thickness: 0.28 mm
Open area %: 10
Supply Form: Sieves
Batch Centrifugal Screen
Material: Stainless steel -1.4016
Size: 2220 x 939 0.5 mm
Perforation : 0.37 x 4 mm
Open area: 22,39 %
Border length 4,8 mm
Supply Form: Sieves
Nickel Knitted Wire Filter Mesh: It is also called nickel screen, which is a pure nickel wire vapor-liquid filter mesh screen. It is also known as pure nickel wire mesh mist eliminator or demister pad wire mesh. Pure nickel knitting wire mesh is made through a special crochet knitting process, widely used in special production environments for mesh demister, oil processor, internal combustion engine filters, dust filters, etc. The wire net general specifications are 25mm to 600mm width. Mesh size and filtering accuracy can be produced according to customer requirements.
Chemical Composition of Pure Nickel Mesh:
Pure Nickel Mark
Ni+Co
Cu
Si
Mn
C
Mg
S
Fe
Impurities
Min.
Max.
N2
99.98
.001
.003
.002
.005
.003
.001
.007
.02
N4
99.9
.015
.03
.002
.01
.01
.001
.04
.1
N6
99.5
.06
.10
.05
.10
.10
.005
.10
.5
N8
99.0
.15
.15
.20
.20
.10
.015
.30
1.0
DN
99.35
.06
.02-.10
.05
.02-.10
.02-.10
.005
.10
.35
NY1
99.7
.1
.10
-
.02
.10
.005
.10
.3
NY2
99.4
.01-.10
.10
-
-
-
.002-.01
.10
.6
NY3
99.0
.15
.2
-
.1
.10
.005
.25
1.0
NMg0.1
99.6
.05
.02
.05
.05
.07-.15
.005
.07
.40
NSi0.19
99.4
.05
.15-.25
.05
.10
.05
.005
.07
.50
Main Specification of Nickel Wire Mesh (Special Size can be custom made):
| | | | |
| --- | --- | --- | --- |
| Mesh count | Wire diameter(mm) | Aperture(mm) | Max width(m) |
| 10 | 0.60 | 1.94 | 1.60 |
| 20 | 0.40 | 0.87 | 1.60 |
| 30 | 0.30 | 0.55 | 1.60 |
| 40 | 0.23 | 0.40 | 1.60 |
| 50 | 0.20 | 0.31 | 1.60 |
| 60 | 0.15 | 0.27 | 1.60 |
| 70 | 0.12 | 0.24 | 1.60 |
| 80 | 0.13 | 0.19 | 1.60 |
| 90 | 0.12 | 0.16 | 1.60 |
| 100 | 0.10 | 0.15 | 1.60 |
| 120 | 0.09 | 0.12 | 1.60 |
| 150 | 0.063 | 0.11 | 1.60 |
| 180 | 0.053 | 0.01 | 1.60 |
| 200 | 0.053 | 0.07 | 1.60 |
| 250 | 0.040 | 0.063 | 1.60 |
| 300 | 0.040 | 0.044 | 1.60 |
| 325 | 0.035 | 0.043 | 1.60 |
| 350 | 0.030 | 0.042 | 1.60 |
| 400 | 0.030 | 0.033 | 1.60 |